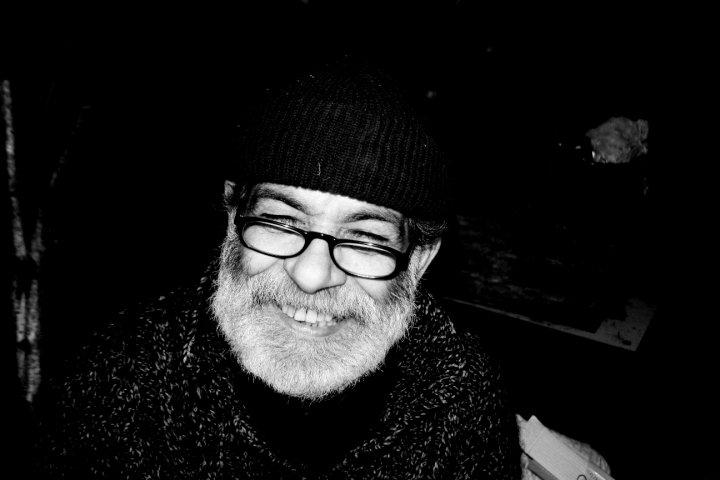 Samir Salameh (1944, 2018)
Né à Safad (Palestine) en 1944, lui et sa famille ont été déracinés de leur ville natale à l'âge de 4 ans. Sa famille a cherché refuge en Syrie, où il a été diplômé de l'école des beaux-arts (peinture) à Damas (1972). Il est également diplômé de l'Ecole supérieure nationale des beaux-arts de Paris (1981). Il vivait et travailleait à Paris et Ramallah. Sa première exposition a eu lieu à Dera'a en Syrie alors que Samir Salameh était encore un étudiant en art, puis est devenu un artiste de renom voyageant d'un endroit à l'autre jusqu'à ce qu'il s'installe en France et en Palestine.
>Samir Salameh a une riche expérience qui a contribué aux arts plastiques en Palestine et dans le monde entier. Son style est dominé par son propre language et des méthodes de peinture et de coleurs qu'il a soigneusement développé avec le temps tout en apprenant de son patrimoine domestique et s'ouvrant au monde avec sa diversité culturelle. Tout au long de son parcours artistique, Samir Salameh a présenté plus de 70 expositions en solo et en groupe, hébergées dans des capitales arabes et étrangères. Ses œuvres varient entre l'abstraction réaliste et l'abstraction lyrique, avec l'utilisation de la calligraphie arabe et des thèmes orientaux. Ses œuvres comprennent également la calligraphie, la peinture à l'aquarelle, les estampes et autres.
http://www.samir-salameh.com/
***
Samir Salameh (1944, 2018)
Born in Safad (Palestine) in 1944, he and his family were uprooted from their hometown when he was only 4 years of age. His family sought refuge in Syria, where he graduates from the School of Fine Arts, (Painting) in Damascus (1972). He is also a graduate of the L'Ecole Supérieure Nationale Des Beaux Arts, Paris (1981). He lives and works in Paris and Ramallah. His first exhibition was held in Dera'a in Syria while Salameh was still an art student, then became a renowned artist travelling from one place to another until he settled in France then in Palestine, both in which he is warmly welcomed.
Samir Salameh has a rich experience that contributed to plastic arts in Palestine and worldwide. His style is dominated by his own language and methods in painting and coloring which he carefully developed with time while learning from his domestic heritage and opening himself to the world with its cultural diversity. Throughout his artistic path, Salameh presented more than seventy solo and group exhibitions hosted in Arab and foreign capitals. His artworks varied between realistic abstraction and lyrical abstraction, with the use of Arabic calligraphy and oriental themes. His works also included calligraphy, watercolor painting, prints and others.
http://www.samir-salameh.com/
EDUCATION
1972 Graduated from the School of Fine Arts, Painting, Damascus.
1975-1976 Studied Architecture in the Ecole Supérieure Nationale Des Arts, Paris.
1978-1980 Studied "Optical Communications" in L'Ecole Supérieure Nationale Des Arts, Paris.
1981 Graduated from L'Ecole Supérieure Nationale Des Beaux Arts, Paris, painting.
1979-1981 Taught painting and photography at L'Université de Jussieu, Paris.
1978-1981 Worked in the Technical Section, UNESCO, Paris.
SOLO EXHIBITIONS
1963-2005 Had a number of personal exhibitions in Syria, Morocco, France, Algeria, Cyprus, Germany, Tunisia, Denmark, Greece, Egypt, Yugoslavia, and Cuba.
MOST IMPORTANT GROUP EXHIBITIONS
1969-2005 1969 Autumn Salon, Damascus.
1972 Arab Contemporary Art Faire, Cyprus.
1973 Unter Grafic, Berlin.
1974 1st Arab Biennale, Baghdad-Iraq.
1976 Venice Biennale, Italy.
1977 Neuvième Festival International des Arts, Cannes.
1978 International Exhibition for Palestine.
1978 Afro-Asian Artists Society, Tokyo, Japan.
1979 Autumn Salon, Paris.
1979 International Salon of Fine Arts, Lisbon, Portugal.
1979 Oriental Arts Museum, Moscow.
1980 Modern Art Museum, Warsaw, Poland.
1980 Modern Art Museum, Tarragona, Spain.
1981 Exhibition of eight artists from the Arab World, Rabat.
1981 Kunstnernef Art Gallery, Oslo, Norway.
1983 Gallérie Davidson, Tours, France.
1984 Exhibition of the House of Opera, Stockholm, Sweden.
1985 MALL Gallery , India.
1986 Comparisons in Contemporary Art, France, Japan, Arab world, Grand Palace, Paris.
1986 Metropolitan Museum, Tokyo, Japan.
1987 Opera House, Sydney, Australia.
1989 Alhambra Gallery, Paris.
1998 Palestinian Art Exhibition, Stockholm, Sweden.
2000 Artothéque, Montreal, Canada.
2002 Musée Dufresne, Montreal, Canada.
2005 The Colours of Life and Liberty, UNESCO, Paris.
2017 7 Masters of Palestinian Art – International Art Colony, Budapest, Hungary.
2018 Zawyeh Gallery, Ramallah, Retrospective by Samir Salameh.
2018 Gallery One, Ramallah, Retrospective exhibition by Samir Salameh.
PARTICIPATED IN INTERNATIONAL FESTIVALS
Including: Asila International Festival, Morocco. Festival International Des Arts à Cannes, France. Potsdam Festival, Germany. Rythmes de Palestine, Montreal, Canada.
OWNERS OF HIS WORKS
Ministry of Culture, Syria.
Modern Art Museum, Tunisia.
Potsdam Museum, Germany.
National Museum, Amman, Jordan.
National Museum of Sharjah, United Arab Emirates.
PRIVATE COLLECTIONS
Palestine, Syria, Lebanon, Jordan, Kuwait, Egypt, Tunisia, Algeria, Morocco, France, Spain, Germany, Norway, Sweden, Switzerland, Qatar, Canada.
MURALS
Casablanca, Morocco.
Cairo, Egypt.
Jifna, Palestine.
Designer & Curator of the exhibition; "100 Martyrs, 100 Lives"in 2001. In Cooperation with Khalil Sakakini Cultural Center, Ramallah.