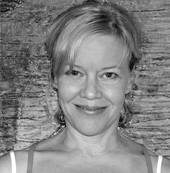 Connie NOYES
Artiste peintre, USA
Master of Arts, Psychology, CA, 1994
Master in Fine Arts, School of the Art Institute of Chicago, 1980
Bachelor of Arts, Virginia Intermont College, Bristol, VA, 1976
Born in Washington D.C., Noyes currently lives and works as a full time artist in Chicago. She received her MFA from the School of the Art Institute of Chicago and MA degree in Psychology from Notre Dame de Namur University in Belmont California. Having moved 42 times in her life, she considers herself a 21st Century nomad.

Through the combination of study, travel and geographical faux pas, Noyes has developed an interest in the unconscious psychology of culture; and how art can support dialog and bypass cultural differences.

Noyes' interest and experience of global culture has been supported through sponsors in a variety of prestigious international artist's residencies and symposiums, including the Emaar International Art Symposium in Dubai, United Arab Emirates (2005),
Thupelo International Workshop in Cape Town, South Africa (2005),
The 6th Annual International Symposium of Art in Bulgaria (2006).
The 5th International Visual Arts Symposium in Monastir, Tunisia (2007) and in 2008 was a participant in the
Visual Arts Festival in Montenegro sponsored by the Association of Fine Arts Belgrade-Serbia and Montenegro.

She is also an active member of the international abstract painters group Pintura Fresca.
Noyes Statement
HUMAN STEPS is a dialog, which references the many disparate elements of daily, urban life – A metaphor for vital energy in conflict with the psychology of shadows - for tight quarters - pleasant or not so pleasant meetings -dirt and dust mixed with vibrant color. Lines mingle. The eye wander. Shapes blur. Patterns clash and emerge.
The more you look the more you see the history, and imperfections beneath the gloss.
Garbage is the catalyst. It provides a jumping off place for my paintings –recycled paper, the plastic newspapers are wrapped in, roofing paper, tape asphalt, wire that was unburied as the snow melted in Chicago. Materials such as these, at one point, might have been utilitarian, but were never considered beautiful. By turning detritus into "works of art", I aim to question the status quo of beauty, worthiness and usability.
About Noyes work
Lush, seductive and slippery, Connie Noyes has been painting about detritus with detritus and the art transcends its materials. Mundane materials. Elegant surfaces. Dynamic relationships. Bigger issues than art for art sake. There is effort in the work to be a part of something larger than oneself, to reach out and use art as a tool, a vehicle for communication and innovation, a statement for augmenting one¹s consciousness.
Paul Klein, 2008
GRANTS / RESIDENCIES
2008 15th International Visual Arts Symposium, Belgrade, Serbia & Padgorica, Montenegro
2007 5th International Visual Arts Symposium , Monastir, Tunisia
Al Smith Fellowship Award, KAC, Frankfort, KY
Kentucky Arts Council, Professional Development Grant, Frankfort, KY
2006 6th International Art Symposium Rusalka-Elite, Veliko-Turnovo, Bulgaria
2006 Kentucky Arts Council, Professional Development Grant, Frankfort, KY
2005 Thupelo International Workshop, Cape Town, South Africa
2005 Emaar International Art Symposium, Dubai, United Arab Emirates
2004 Kentucky Arts Council, Professional Assistance Award, Frankfort, KY
FEATURED EXHIBITIONS
2009
Parallel Lines Never Intersect, Europia Gallerie, Paris, France
The 10,000 Project, Art House Co-op, Atlanta, GA
The Landfill Art Project, Landfill Art Inc. , Wilkes-Barre, PA
World of Imagination Volume 2, APW Gallery, Long Island City, NY

2007
Re--fuse/Ref-use, Estel Gallery, Nashville, TN
Elements, RBH Gallery, Washington, DC

2006
"Holding Patterns", Spur Projects, Portola Valley, CA

2005
Stephen Kelly Gallery, Chicago IL

2004
"Wax Drawings", Paul Sunderholm Gallery, San Francisco, CA
"Introductions", O Gallery, Paducah, Ky

2003
"Edges: Between Chaos and Stillness", Hang Gallery, San Francisco, CA

2001
Hang Gallery, Featured Artist, Palo Alto, CA
"Coming Around Again", Weigand Gallery, Featured Artist, Belmont, CA

1992
"New Works", Touchstone Gallery, Washington, D.C.

1991
"Constructions", Art League Gallery, Alexandria, VA.

1983
"Estarotica", (photographs and dance), The Northside, Chicago, IL

1982
Cameravision, Los Angeles, CA
Go Gallery, University of California, Los Angeles, CA
SELECTED GROUP EXHIBITIONS
2009
PULSE, Pintura Fresca, West Chester University, West Chester, PA

2008
One of a Kind Show, Merchandise Mart, Chicago, IL
The ALBA ART SHOW, Anna Bondonio Camadona Gallery, Alba, Italy
The ARTIST PROJECT, Artropolis 2008, Chicago, IL
PULSE, Pintura Fresca, CA Institute of Integrel Studies, San Francisco, CA
35th Annual Juried Exhibition, Masur Museum of Art, Monroe, LA

2007
"PINK", benefit for Susan Koman Foundation, Soho Myriad, Atlanta, GA
Effects of War: Altered Lives, Altered Books, CA Institute of Integral Studies, San Francisco
Out if Our Minds! Exploration of Spiritual Geography, Artyfakt Gallery, Singapore
Is Abstract Painting Dead? Gallery 435, Slough, UK

2006
Muestra Internacional de Arte, M.I.A.D. Venado Tuerto, Argentina
"Size Matters", Yeiser Art Center, Paducah, KY
"July 2006", Artists Respond To War, Europia Espace Galerie, Paris, France

2005
Emaar International Artist Symposium and Exhibition, Dubai, U.A.E
"Inspiration From Nature", Galeriseni UKM, Bangi, Malaysia
"8th International Open Exhibition", Woman Made Gallery, Chicago, Il
Common Thread, Soho Myriad, Atlanta, GA
Discover, Yeiser Art Center, Paducah, KY
Global Art Movement, MIAC, Medialworks, London

2004
Paul Sunderholm Gallery, "Opening Suite", San Francisco, CA
"Miniatures", Mark Palmer Gallery, Paducah, KY

2003
"Biennale Internazionale Dell'Arte Contemporanea", Florence, Italy
5th Place Painting, Lorenzo Al Magnifico Award
"Selections, 2003", Artspan, San Francisco, CA

2002
"Small Wonders", Hang Gallery, San Francisco, CA
"Seeing Red", Hang Gallery, Palo Alto, CA
"Postcards from the Edge", Sperone Westwater Gallery, New York, NY
Somarts Gallery, "Open Studios 2002, San Francisco, CA
"Landscape/Mindscape", Hang Gallery, San Francisco, CA
"Pieces", Café Arrivederci, San Rafael, CA
"Bay Area Currents", Oakland Art Gallery, Oakland, CA
"Major Abstract", Intercultural Museum Art Gallery, Baltimore, MD
"East Bay Open Studios", ProArts Gallery. Oakland, CA
"Fresh Paint", Hollis Street Project, Emeryville, CA

2001
Somarts Gallery, "Open Studios 2001", San Francisco, CA
Gallery Artists, Hang Gallery, San Francisco, CA

2000
"Open Studios 2000", Oakdale Painting Studios, San Francisco, CA
Somarts Gallery, "Open Studios 2000", San Francisco, CA

1997
Women's Artist's Gallery, San Francisco, CA

1994
Group Invitational, Weigand Gallery, Belmont, CA

1992
"Touchstone Photographers", Touchstone Gallery, Washington, D.C.

1991
"All-Media Membership Show", The Art League, Alexandria, VA.
Award: 1st place, Franz Bader juror
"The New Touchstone", Touchstone Gallery, Washington, D.C.
"10th Annual Northern Virginia Photography Exhibition",
Gallery of the Ellipse, Arlington, VA. Mark Power, juror
"Your Shot, Our Show", Tartt Gallery, Washington, D.C
"The Annual Art Exhibition at the Athenaeum", Alexandria, Va., Julia Boyd, juror
"Gallery West Presents: The Artists of Touchstone", Gallery West, Alexandria, VA

1990
The Art League All-Media Membership Show, The Art League, Alexandria, VA.
Award: 1st place, Collage, Jerry Clapsaddle, juror
The Gallery at the Ellipse, Arlington, VA
Washington Center for Photography, Washington, D.C.,

1989
"All-Media Non-Representational Show", Art League Gallery, Alexandria, VA

1982
UMC Fine Art Gallery, University of Colorado, Boulder, CO

1981
"Visions From Chicago", Saidye Bronfman Centre Museum, Montreal, Quebec Canada
"Furthering Photography", 2nd Street Gallery, Charlottesville, VA
Dittmar Memorial Gallery, Evanston, IL.

1980
In a Plain Brown Wrapper, Chicago, IL
"Fourteen From Chicago", invitational exhibition, Beloit, WI
"Art Attacks: A Social Disease", Moming Dance and Arts Center, Chicago, IL
International Festival of Women in the Arts, New York, NY
Photoworks Gallery, invitational exhibition, Richmond, VA

1979
Chicago Public Library, Cultural Center, Chicago, IL
University of Ohio, Athens OH
Herron School of Art, Indianapolis, I

1978
"Women in the Arts", invitational show, Lynchburg Fine Arts Center, Lynchburg,VA
"Virginia Museum Biennial", Virginia Museum of Fine Art, Richmond VA

1977
"S.E. Photographic Competition", Greenville County Museum of Art, Greenville, S.C.Purchase Award
Optic Gazebo Gallery, Modesto, CA
"The Non-Silver Show", The Light Factory, Charlotte, N.C.

1976
"Virginia Museum Biennial", Virginia Museum, Richmond, VA